蔡沛倚|Tsai Pei-Yi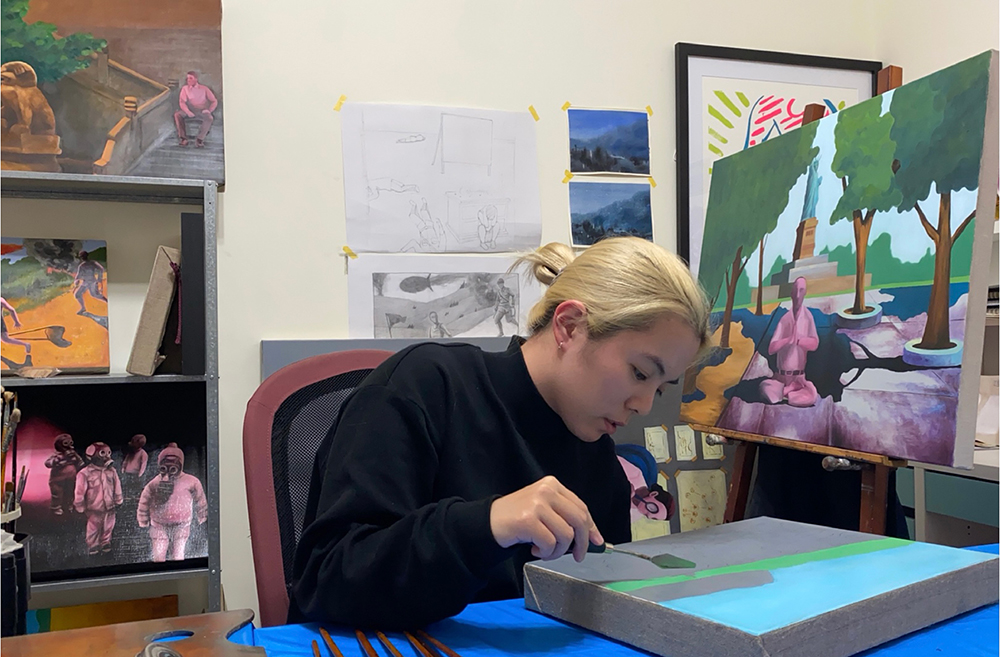 1994年出生於台灣台北,畢業於國立臺灣師範大學美術學系西畫組碩士,主要創作形式以平面繪畫為主。從2019年起,便開始描繪戰爭相關之題材。最初,作品充斥著大量的知名戰爭歷史影像,而後續便聚焦於外祖父書寫的軍旅日誌作為此項創作題材上的研究,將其日誌之中的影像與文字,運用繪畫的形式進行紀錄。作品曾入選2021 Art Future亞洲新星獎,2021台灣美術新貌獎,並多次參與國內各大藝術博覽會。

此次展出的作品內容源自於外祖父的軍旅日誌與其戰後的平民生活,並試圖探討戰爭與歷史對於當代思潮的影響。透過油彩將老舊的歷史影像重新編制色彩,另外加入了想像空間與物件,以及將看似兒童描繪的平面色塊塗鴉於畫面中,使得衝突與矛盾存在於畫布上。

Tsai Pei-Yi (born 1994 in Taipei City, Taiwan) graduated with a master degree of western art at the department of art, National Taiwan Normal University. Her works of art are mainly paintings. She started to describe war-related topics since 2019. At the beginning, her works were full of well-known historical images of war. She afterwards focused on researching related topics based on her grandfather's military journal. Those recorded texts and images were transferred into her paintings. She has participated in many art fairs in Taiwan. Her works have been selected for the 2021 Art Future Prize and the 2021 Taiwan Emerging Art Awards.

The works exhibited this time are derived from the military journal of her grandfather as well as his civilian life after the war. She attempts to discuss the influence of war and history on contemporary trends of thought. The colors of the old historical images are reprogrammed through her paint brush. Imaginary space and objects are added and flat color blocks that seem to be painted by children are graffitied on to let the conflicts and contradictions existing on the canvas.